Schneider Family Reunion, Dallas, TX, May 2006

We all managed to get together at Homewood Suites in Las Colinas in Irving-- Grandma and Grandpa, the 3 surviving kids and their families. Sadly, Randy had to miss it because of a family emergency. Several cousins met for the first time, as they are spread out around the country: Arizona, Texas and Illinois. We gathered to celebrate Justin's High School Graduation, Carina's First Birthday, and we remembered our son Glen, on the 14th anniversary of his death.



-------CLICK ON IMAGES FOR FULL SCREEN VIEW-------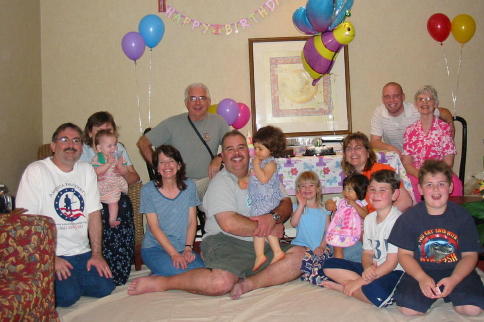 The children just loved the pool and were in it every chance they got. Roly's hat got passed around and the girls showed it off.


-------CLICK ON IMAGES FOR FULL SCREEN VIEWS-------
(Right-click thumbnail "properties" for photo captions)

We all helped Carina celebrate her first birthday. The children had fun popping open the piñata and playing together.
We were then off to the Dallas Museum of Natural History for a great adventure, and a nice lunch at a Mexican restaurant.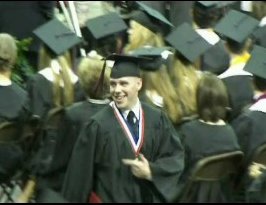 Justin's Dad also made an excellent DVD of the graduation ceremony. Above is a screen shot.
The next week, Jackie, Roly, their daughters and Karen and Justin went on to visit the Dallas World Aquarium and the
Fort Worth Stockyards, where Justin was "apprehended" by a friendly cop.
-------CLICK ON IMAGES FOR FULL SCREEN VIEWS-------
(Right-click thumbnail "properties" for photo captions)
---
CLICK HERE FOR SONG (WAV)
---
---CLICK ON GLEN'S PICTURE TO SEE MEMORIAL PROGRAM (MS Word Document)---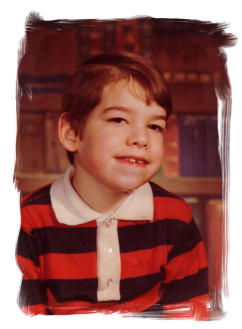 We drove over to Calvary Hill Cemetery and Mausoleum and visited Glen's grave site. His Mom and Dad recited readings, and we all joined in prayers and shared memories of our beloved son, brother and uncle. After lunch at Mario & Alberto's Restaurant (where Roly proposed to Jackie in 1992), we all drove to our old neighborhood in Far North Dallas. At Tom C. Gooch Elementary School, only a couple of doors from our old home (where Glen died) we filled orange balloons with helium and released them. Orange was Glen's favorite color. We watched as they disappeared into the sky.

-------CLICK ON IMAGES FOR FULL SCREEN VIEWS-------
(Right-click thumbnail "properties" for photo captions)